This is Part 3 of my series on China. Each part can be read separately, but you can read part 1 here
https://steemit.com/politics/@mobbs/china-1-the-bad-part-1
and part 2 here
https://steemit.com/politics/@mobbs/china-2-the-bad-part-2
Previously I discussed:
Economy
Population
Culture (in part)
Health & Safety
Corruption
I'd like to explore more aspects of culture, with my Steemian friend, who, as a Chinese woman, has a first-hand account, @ginafraser. So let's begin
Equality
In many ways, much of what I say here would probably apply globally, but China has a systematic approach to inequality which, though changing in some of the major 'first tier' cities like Shanghai and Beijing, still has a long way to go, and in much – perhaps most – of China, has an unchanged attitude towards equality, in particular, gender equality. I find this particularly striking given their socialist history. According to the Gender Inequality Index, China ranks 91 out of 187 countries (some tied), and 99th in the Gender Gap index.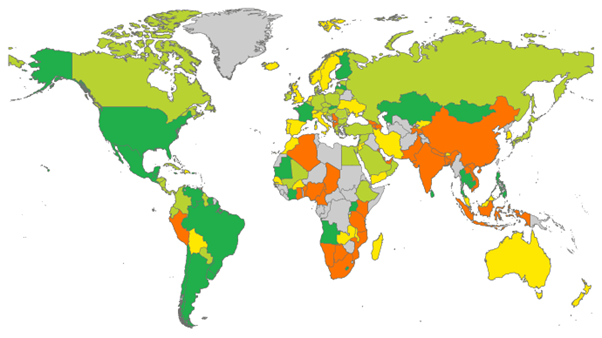 These statistics may not go against any of your expectations, but let's dig a little deeper into what this actually means, culturally.
Women in much of China are considered as little more than a homestay maid that provides sexual release for the men. But these women also have to be the right kind. A woman's value rapidly deteriorates in China based on their age and whether or not they are a virgin.
Marriage markets
When I say value, I really mean value. A common sight in China – even in Shanghai – is the rather famous 'Marriage Markets'. So much so that they're even a tourist attraction on many websites.

Here you can essentially sell off women to eager, aging, single men. You can advertise men too, but unlike women, the men tend to increase their value with age, and it's their wallets that really matter.
剩女
China has a popular idiom '剩女' or 'leftover women', which refers to women in their late 20's that are still unmarried (Just recently, the nation somehow collectively decided to lower this age to mid-20's). After that threshold, your value decreases and your chances of finding a partner in the markets (and elsewhere) plummets. Women typically then feel pressure to get whatever they can take. Additionally, the 'virgin system', as @ginafraser puts it, causes value to drop even more. I find this particularly bewildering given that there is a huge gender imbalance in the population in the other direction; a surplus of 33 million men reside in China.
Once a woman finds a man and the man proposes, it's not unusual for the woman's family to put a price tag on their approval. My friend's fiancée was given the go ahead after a nice, brand-new, widescreen TV was put on offer, for example. Some may simply ask for a lump cash sum to prove you're a good person somehow.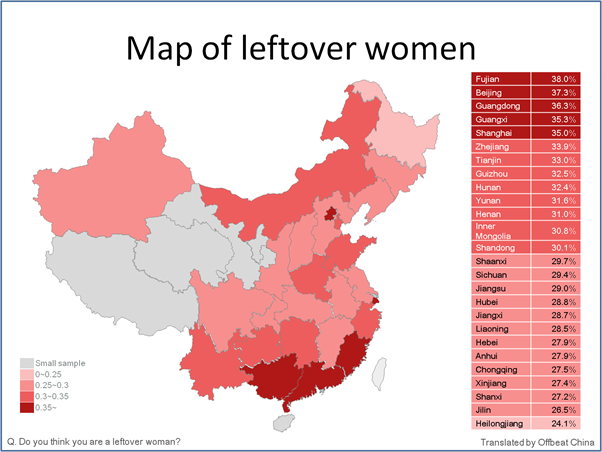 Rights
Women typically have less rights overall. Mao Zedong, in his little red book, insisted that gender equality is a necessity in society, citing equal pay for equal work decades before modern SJWs were even born. But his words did not match reality, with very few discrimination cases and little to no protection against harassment until very recently when Xi Jinping started to make some reforms, and even that led to little change.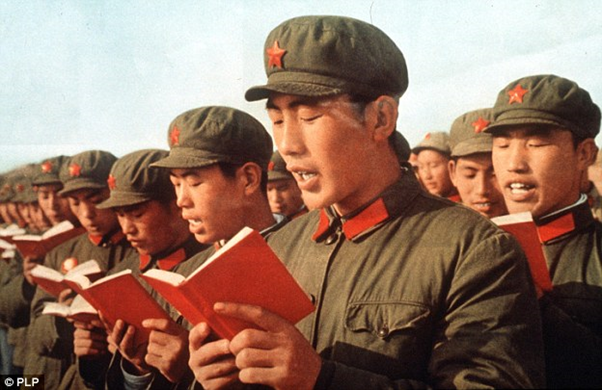 Even anecdotally, I know of sexually harassment to friends of mine in public; men touching their underwear with their penis in the subway. Others witness older men casually masturbating over them. 'When she later asked Beijing locals about the incident she was told that older men were allowed to take part in this kind of activity as they are senile and it was just the way things were.'
According to a Chinese Non-governmental organization, a massive 70% of women here have experienced sexual harassment at work, and 15% have left their jobs because of it.
Furthermore, domestic violence is as high as 40% against women, and even higher in rural areas. Like everything here, the main issue is simply a lack of legislation and enforcement. There is no protection or shelters for abused women, no helping organizations, and abuse is largely considered a 'family matter' to the authorities. With that in mind, divorce is not granted on grounds of 'abuse'. It's just not a valid argument for divorce in China.
Now we get to the ugly bit.
Unwanted children & abortion
As mentioned above, there are 33 million more men in China than women. That's a huge number, even for a population as big as China. It may be partly due to the one-child policy I talked about in part 1.
As the policy took over (though many exceptions were available), there was pressure in rural areas to birth males, who are apparently better at work. Women are undesirable; not good for work. So there is a natural desire to abort the fetus or failing that, abandon the baby so they can try again for a boy.
Often, a family is allowed a second child IF the first one is a woman, because this first attempt is considered a 'failure'. I should note that this attitude in and of itself is common all over including Vietnam and India. This continental gendercide is winding down slowly, like every other problem, but not nearly fast enough. Abortion rates are still incredibly high in China. 336 million abortions were reported since the one-child policy was put into effect, or 13 million each year, many of them forced.
Suicide rates are higher in women than men in China – The only country in the world other than some small island with a population of about 10 people. Now we can start to see why.
CCP
The Communist Party of China, of which there are almost 90 million members, enjoys plenty of general rights compared to the rest of the expendable population. Becoming a member is considered 'the ultimate resume boost' to start off, and, going back to the marriage market, your value shoots up substantially. You are culturally more respected and become more influential, because becoming a member is something considered only for the elite – despite it being 7% of the entire population.
To put the cherry on the cake, members literally have more rights according to the Chinese constitution: 'Article 35 proclaims, "Citizens of the PRC enjoy freedom of speech, freedom of the press, of assembly, of procession and of demonstration." Another segment guarantees workers the right to strike, to speak out freely, air views fully, hold large debates and write big-character posters.' – With a big asterisk at the bottom citing 'applicable to members of the party only'
Well, that's nice.
Censorship
China is probably most famous for its incredibly powerful censorship system. With the great firewall, and the lesser known great cannon, billions of dollars put into watching and controlling dissent through social media, internet and a full range of hacking skills, there's little anybody can realistically do and get away with it – foreigners like me included.
A fellow co-worker, for example, was on skype to his son one day, when he got a phone call from the internet company. 'Sorry to disturb your call with your son, but'.
Wait, what? It seems they were sitting there, watching them chat through their own computer screen before calling him up, which violates no privacy rights whatsoever. If a private company has that kind of power, what does the government have?
A lot.
五毛党
The Chinese government hires something they call '五毛党', or '50 cent army'. This is a massive array of individuals paid to manipulate public opinion online (though it's just as likely it's an official duty of membership to the CPC). They are responsible for faking 450 million social media posts according to research.
They are also there to snitch on dissenters among other things. They specifically focus on 'derailing discussions unhelpful to the communist party'. Essentially, they are professional trolls.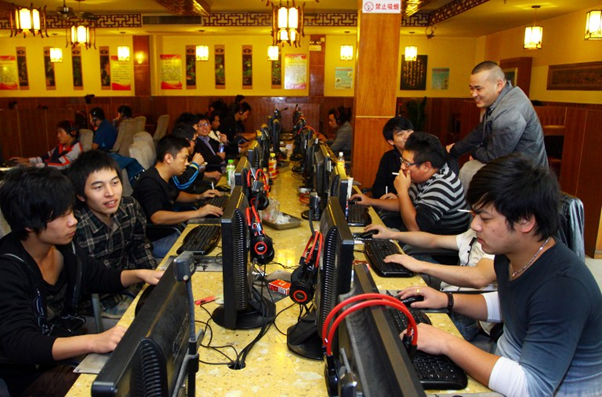 Wechat
Wechat is China's Whatsapp. But it's so much more than that. It's an incredible, powerful device that transforms life as we know it. But I'll get into that in the 'good' post later on. The problem is that wechat consumes almost every aspect of life. In the app, you can call taxis, pay your bills, book cinema tickets or flights, order food or pay at restaurants, charge your phone, unlock a shared bike and a whole manner of oth – oh, and chat with your friends.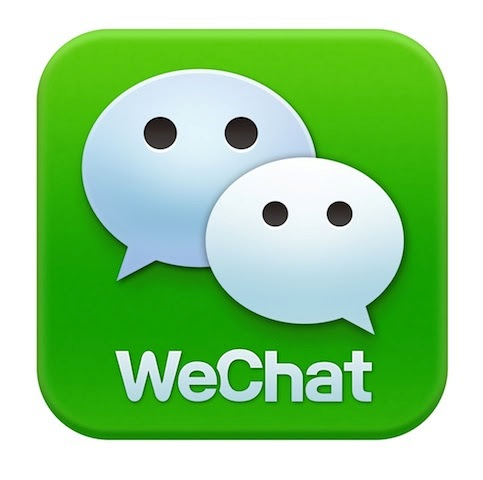 With 900 MILLION users depending on this all-consuming app, it's a little worrying when you realise they have a very cozy relationship – as is required – with the government. Censorship is bountiful, and there are 50-cent eyes required in every group chat over a certain number of members. Members of large group of 500 or more also have to register their phone numbers so there's no escape
The parent company, Tencent, without telling anybody, censors a whole range of key words and images that appear in newsfeeds, typically things relating to political issues like Tiananmen square, the Hong Kong protests and so on. Many users have been arrested and some reportedly 'disappeared' (a common theme in China) for writing dissenting ideas where more than a few people could read it.
There is in fact a whole new language created by Chinese netizens meant to be a code to bypass censorship, but the grip gets tighter every day.
Censorship is incredibly fast and efficient here, so word has to spread fast if anybody wants to even hope to make a difference and get people informed.

VPNs
VPNs, or Virtual Private Networks, are surprisingly not illegal in China. But with the vast majority of the country totally unaware of what that is, it doesn't mean much anyway, and it allows the hypocritical government to access whatever they please. Just recently however, there has been a crackdown on VPNs, and now only VPNs registered and authorized by the government may function in the country. Surprise, surprise.
Media
Typically, all media is heavily censored. Songs cannot sing about anything controversial, TV shows are all safe and family friendly (there is no age rating in China, so EVERYTHING has to be safe viewing for EVERYONE), Video games have to be safe and friendly, literature has to be compliant and family friendly. And safe.
There was a period drama released a couple of years ago called 'Empress of China' which, famously, was pulled from the network without warning, and was not heard of again until a few weeks later when it was re-instated. See if you can spot the difference:
That's right. NO CLEAVAGE.
Blood is also unacceptable for the most part. The recent movie Logan was released here surprisingly, but only after a full 14 minutes were cut out. I'm sure you can guess which bits.
Most international movies released here (of which only 36 are allowed in a given year), have a scene or two cut from it. Which leads me to the final section of Part 3.
International Affairs.
You may have noticed a sharp rise in Chinese actors in minor roles in big movie hits across America. This is no accident. With China rapidly becoming the biggest cinema market, and by far the fastest rising market, it only makes sense that Hollywood sucks their… little red book. But over here, it's even more pronounced. What you don't see in America are the additional scenes specifically recorded by Hollywood to include a dialogue or action by some famous Chinese actress or actor being patriotic and all round heroic. Some movie examples are:
• Iron Man 3 – An extra scene showing famous Chinese actors as heroic doctors operating on Tony Stark
• X-men – Fan Bing Bing, the most famous actress in China, played a useless role
• Transformers – It includes a wide range of Chinese product placement
• World War Z – Left almost unrecognizable after all mention of China was removed
• Dozens of other movies (Looper, Pixels, Karate Kid, Django Unchained, Hunger games, and so on) – Scenes cut entirely for
Chinese viewing.
It's safe to say that China is having a substantial impact on the Hollywood industry. Directors are carefully planning their movies to be suitable and attractive enough to fit into that small, 36-movies-a-year movie list in China.
One Belt, One Road
China is of course a global power, and boy, do they know it. But naturally, it's never enough. Just recently, Xi Jinping has released grandiose plans for the 'One Belt, One road' initiative; a giant update of the old silk road
The move plans to economically connect the world with China for developmental and cooperative reasons. But it's not all it seems to be.
It has already gone under fire when footage of Kenyans protesting about the new rail system being installed by China surfaced. The rail system connecting the one belt will triple import and export times.
The Kenyans were protesting for a pay raise from $2.50 to $5… per day to start, but there was also protest about the track cutting right through a protected wildlife reserve, treatment of workers and all round poor conditions, such as firing Kenyan staff without cause, firing Kenyans for asking for more pay, dredging sand from beaches for construction, and stealing water from local communities.
This is common across Africa with Chinese companies, with many human rights laws being broken, with outbreaks of cholera, no protective gear and more.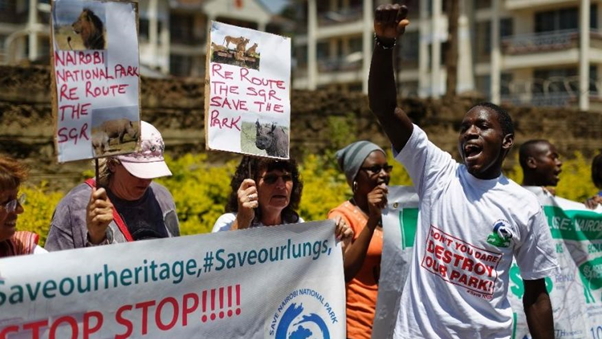 But not to worry, it's a divided issue, and at least thousands of new jobs have been provided to install the project. Sounds great! Except… the companies China brings to Africa import their own labour. Very few Kenyans actually got to work on the project.
The problems get bigger still. Kenya will be forcefully buried into debt as a result of this project. Kenya's debt is now 700% of its annual budget – 60% of which belongs to China.
Similar plans are happening around the entire belt. In Vietnam, plans to 'help develop' the country will add additional debt equal to the country's entire annual budget. There is certainly something sinister about this peace project.
500 billion dollars was given in trade in Latin America, with a further 250 billion in direct investments. Yes, almost a trillion dollars in the continent. As for One belt? An estimated 3 Trillion dollars will be sunk into that beast.
There are even broader efforts by China of global domination. In New York Times Square, for example, there is a huge propaganda ad playing 120 times a day, and has entire sections of newspapers dedicated to Chinese patriotism all over the country. Chinese propaganda is commonplace with entire TV channels dedicated to praising the CPC and more.
Overall, China spends around 10 billion dollars on international propaganda, compared to the US's $666 million.
Make of that what you will.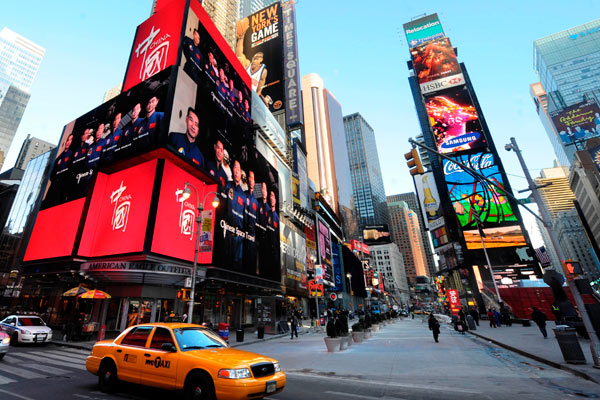 Can you spot the propaganda?
To conclude
China's influence on the world is phenomenal, and its rate of growth is even more astonishing. As worrying as this might be, the internal issues are, to me, a much greater concern. Political battles, human rights abuses, an extremely alarming disregard for safety standards and health, pollution disasters, substantial poverty, inequality, animal cruelty and a whole range of aspects I didn't get time or space to cover, they all lead to one thing:
I need to make a Part 4!
But I promise it will be a lot shorter next time.
Thanks for reading this far, and a special thanks to @ginafraser for her personal knowledge included in this article.